USEFUL COMPUTER LINKS
Useful links for PC Repairs, Computer Software and Utilities as well as Computer Hardware, Parts and Accessories.
A lot of free software to use as well as how to obtain products and accessories, advice and servicing for your PC.
COMPUTER SERVICING AND REPAIRS
An excellent (Perth) local Computer Repair Service with a "No Cure - No Charge" policy!
Howie provides outstanding customer service and is also happy to share his knowledge and answer your questions.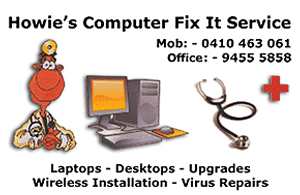 COMPUTER SOFTWARE AND UTILITIES
Serif Software and NCH Software have free versions (not just trials) of a lot of their software.

AVS4YOU have a one-off fee of US$59 to Register, Use & Receive Upgrades for life for all products.
COMPUTERS, SOFTWARE, ACCESSORIES
City Software provide online ordering of a wide range of Computers, Parts, Software and Accessories at competitive prices.
Deliveries are fast and by courier.
Service and advice is friendly and knowledgeable - you can phone and discuss any aspect of your problem/purchase with the experts.
Shop with confidence - Returns and refunds are generally no problem and exchanges can easily be arranged.